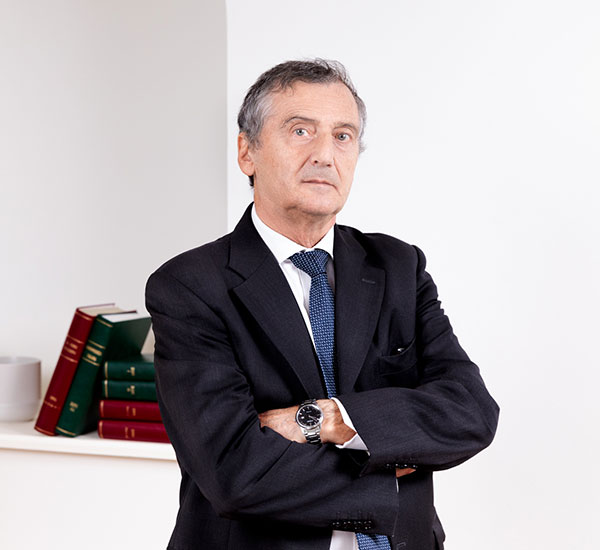 Biography
Born on 31 March 1950; member of the Turin Bar Association and admitted to advocacy the Court of Cassation since 1989.
Professional experience
Full Professor of Economic History – University of Nuevo Léon, Mexico, 1978-81;
Director of Research Project in Mexican History funded by the Ford Foundation, 1980-1981.
Member of the Intellectual Property Advisory Group, United Nations Economic Council on Europe (1998-2006 where he served as Vice-President from 1998 to 2001).
Guest Professor in Industrial Law in the European Union at the Universidad Notarial Argentina in Buenos Aires (2002, 2003, 2004, 2005).
Guest Professor in the Master in Intellectual Property (University of Turin, World Industrial Property Organization) and in the Master for Business Lawyers (University of Turin).
From 1983 to 1989 he worked with Jacobacci Casetta e Perani in Turin, gaining experience in the field of intellectual property and related contracts.
Since 1989 he has been working in Turin; in 2020 he established the firm Studio Sindico e Associate.
Education
University of Ferrara, (Law Degree, 1972);
Institut Africain de Genève, now Institut de Hautes Études
Internationales et du Développement, (Diplôme, 1972);
University of Minnesota, Minneapolis, MN, U.S.A. (M.A. – 1974 and Ph.D. – 1981 in Economic History).
Publications
"BasicNet: proprietà intellettuale, strategie e crescita aziendale", Persona e Danno, May 8, 2012
"Le Invenzioni dei dipendenti" in Bottero (a cura di) La Riforma del Codice della Proprietà Industriale, Giuffrè Editore, Milan, 2011, pag. 165 ss.
"On parallel Importation, TRIPS and European Court of Justice decisions", in The Journal of World Intellectual Property , July 2002, Vol. 5, No. 4, pag. 505 ss.
"Trade Marks and domain names. Issues and recent Court decisions in Italy", in LES NOUVELLES , June 2001, pagg. 49-56.
"Marchi e Nomi di dominio: I possibili rimedi contro i pirati cibernetici", in Il Diritto Industriale , N. 2, 2000, pag. 132 ss. (coauthor: Riccardo Rossotto).
"I marchi nel pallone", in Il diritto Industriale , N. 4, 1999, pag. 323 ss. (coautori: Riccardo Rossotto e Fernando Santoni)
"Trade Mark protection and Counterfeiting – The KAPPA Group Experience", in The Journal of World Intellectual Property, May 1999, Vol. 2, No. 3, pag. 407 ss.
"Contraffazione: danno economico e sociale", Italia Oggi , April 01, 1987, pag. 16
"Fendi-Gucci: The Italian Supreme Court Prosecution for the Sale and Distribution of Counterfeit"
"Formas de comercialización de mercancías de la hacienda azucarera", in AA.VV., Los lugares y los tiempos. Ensayos sobre las estructuras regionales del siglo XIX en México, 1989, Editorial Nuestro Tiempo, México D.F., pag. 160 ss. (coauthor: Guillermo Beato)
"Los Grupos económicos regionales y sus relaciones con el poder político local en México en el siglo XIX. El caso de Morelos" in A. Annino, M. Carmagnani, G. Chiaramonti, A. Filippi, F. Fiorani, A. Gallo e G. Marchetti (a cura di) America Latina: dallo Stato coloniale alla Stato nazione, Franco Angeli, Milano, 1987, pag. 311 ss. (anche in Deslinde, Revista de la Facultad de Filosofia y Letras, Universidad de Nuevo Leon, n. 20, Abril-Junio de 1988, pag. 64 ss.)
"Azúcar y burguesía. Morelos en el siglo XIX", in AA.VV., Siglo XIX en México. Cinco procesos regionales : Morelos, Monterrey, Yucatán, Jalisco y Puebla, 1985, Claves Latinoamericanas, México D.F., pag. 11 ss.
"Stato e società in Messico durante il XIX Secolo "lungo", in Analisi storica, Anno II, n. 2, gennaio giugno 1984, pag. 141 ss.
"The beginning of Industrialization in Northeast Mexico" in The Americas, vol. 39, n. 4, April 1983, pagg. 499-518 (coauthor Dr. Guillermo Beato, also in Spanish in: Enrique Cardenas, Historia Economica de México, Mexico City, Fondo de Cultura Economica, 1992
"Inmigración Europea y Desarrollo Industrial. El caso de Monterrey, México" in Ralph Van Roy, Migraciones Internacionales en Las Américas , CEPAM, Caracas, 1983, pag. 151 ss. (also in Actas del 6° Congreso de AHILA , Stockholm, May 25-28, 1981, pag. 436 ss.)
"Ingresos y consumos de los trabajadores agrícolas en dos haciendas mexicana a principios del siglo XIX", in Nova Americana, n. 4, Einaudi, Turin, 1981
"Santa Ana Tenango. A Morelos Sugar Hacienda", Facultad de Filosofia y Letras, Universidad Autonoma de Nuevo León, Monterrey, Mexico, 1980
"La Hacienda en el siglo XIX", México, DEH-INAH, 1980 (coauthor: Guillermo Beato)
"Modernization in nineteenth century sugar haciendas: the case of Morelos (from formal to real subsumption of labour to capital)", in Latin American Perspective. A Journal on Capitalism and Socialism, n. 27, Vol. VII, 4, Fall 1980, pag. 83 ss.
"A propósito de los conceptos de modo de producción y formación económica de la sociedad", in Cathedra , Revista de la Facultad de Filosofia y Letras, Universidad Autónoma de Nuevo León, Ottobre-Dicembre 1978, IV, no. 10, pag. 109 ss. (also in english)
"New Left Theories and the Mode of Production", in Ileana Rodríguez and William L. Rowe (Ed.), Marxism & new left ideology, Marxist Educational Press, Minneapolis, 1977, pag. 95 ss.
Desarrollo urbano en America Latina. Argentina y Colombia un estudio comparativo, Facultad de Filosofia y Letras, Universidad Autonoma de Nuevo León, Cuadernos de Sociologia, 1976
"Regional development XIX century: Nuevo Leon, Agricoltural aspects », in Actes du XLII Congrès International des Américanistes, Congrès du Centenaire, Parigi, September 2-9, 1976, Vol. I, pag. 457 ss.
"Aziende messicane del XIX secolo », in Actes du XLII Congrès International des Américanistes, Congrès du Centenaire, Paris, September 2-9, 1976, Vol. III, pag. 349 ss.
"El mayorazgo en la Legislación Española durante el período Colonial", in Cathedra , Revista de la Facultad de Filosofia y Letras, Universidad Autónoma de Nuevo León, n. 3, 1975, pag. 73 ss.
"Ensayo sobre problemas agrícolas en Nuevo León" (1820-1906), in Cuadernos de Trabajo, Departamento de investigaciones Históricas INAH, 1975